With the start of the new year, a transition of leadership has taken place in the Health Science Research Institute (HSRI).
Paul Brown, Professor of Public Health, completed his term as Faculty Director of HSRI at the end of December. Deborah Wiebe, Professor of Psychological Sciences, has agreed to serve as the next HSRI Faculty Director for a five-year term and is now serving in that role.
Deborah (Deb) was offered the HSRI director position after a campuswide search that included thorough consultation with HSRI membership and staff, an in-person interview with HSRI's executive committee, and preparation of a comprehensive memo of recommendation to the Chancellor, Executive Vice Chancellor and Provost, and Vice Chancellor for Research and Economic Development.
This will be Deb's second term at the helm of HSRI, having served as interim director for six months in 2016. Deb has an M.A. and a Ph.D. in medical psychology, as well as an MPH in epidemiology. She has extensive administrative and leadership experience in both academic and medical school settings that fit well with the multidisciplinary research and program building mission of HSRI. Prior to joining the faculty at UC Merced in 2013, she held academic and administrative positions at several major universities, including Director of Research at the University of Texas Southwestern Medical Center and Director of Clinical Training in psychology at the University of Utah.
Deb has served on numerous advisory, editorial and review boards for national and international grant agencies, publications and professional organizations relevant to the human health sciences. She has also held leadership roles related to health sciences on campus, including chairing (with Professor Nancy Burke) the Human Health Science SAFI cluster hire that successfully recruited all eight top candidates across the three schools to UC Merced.
Deb's research focuses on self-regulation and the central role of social relationships (e.g., parent-child relationships; patient-provider relationships) in preventing and managing chronic diseases such as diabetes, and how these associations change across developmental and sociocultural contexts. Her scholarship is based in multidisciplinary team science, spanning psychology, behavioral medicine, pediatrics, endocrinology and public health. She has received national recognition for her scholarship, most recently receiving the 2018 Dennis Drotar Distinguished Research Award from the Society of Pediatric Psychology. Her research has been consistently funded by grants from the National Institutes of Health, primarily the National Institute of Diabetes and Digestive and Kidney Diseases.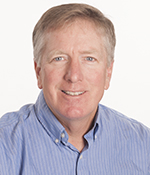 Paul Brown has been the director of the institute since June 2012 and has led HSRI's growth from its initial proposal as an Organized Research Unit (ORU) to its status today as the largest ORU on campus, with 110 members representing all three of UC Merced's schools. Part of HSRI's growth is due to its commitment to providing excellent grants service for its members. Under Paul's leadership, HSRI became a "one-stop shop" for pre- and post-award grants services, and has grown its funding portfolio to 52 grants with a combined value of $15.5 million, including the new Nicotine & Cannabis Policy Center, led by Professor Anna Song.
As part of HSRI's efforts on Valley fever research, Paul established the California Valley Fever Network, beginning with open forums and seminar series that included stakeholders from research universities, healthcare providers, public health departments, the California Department of Corrections and more. HSRI's work to promote Valley fever as a priority for UC Merced is a key reason for the inclusion of a Biological Safety Level 3 (BSL-3) laboratory in Phase 3 of the Merced 2020 Project.
Paul created the UC Merced Translational Research Center and its associated Community Health Advisory Group (CHArG) — now led by Professor Linda Cameron — to assist investigators in the development, implementation and dissemination of community-based research projects to address the health of San Joaquin Valley residents. The CHArG group continues to advise on community matters related to study design, project recruitment and emerging needs in the region.
Paul has established relationships with local and regional healthcare providers, including Mercy Medical Center in Merced, Valley Children's Hospital in Madera, UCSF Fresno, and Kaweah Delta in Tulare. These new partnerships led to Research on a Napkin (in which HSRI researchers travel to partner hospitals to give short presentations about their research over a brown bag lunch) and led to the founding of the Biostatistics and Data Support Core, which is now a standalone recharge unit led by Professor Sidra Goldman-Mellor. In addition to research-based activities in HSRI, Paul was also charged with progressing the university's efforts in medical education.
We very much look forward to the growth and continued success of HSRI under Deb's leadership. So, please join us in thanking Paul for his contributions as the Faculty Director of HSRI, and in congratulating Deb on her new appointment!