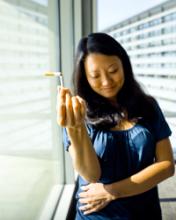 Cigarette advertising and promotion cause youth to start smoking and facilitate progression to regular use, according a U.S. Surgeon General's Report released today.
UC Merced and HSRI Professor Anna V. Song collaborated with other researchers from around the world to contribute to the fifth chapter of the report, "Advertising and Other Promotional Activities Used by the Tobacco Companies to Promote Tobacco Use Among Young People." It's the first time a UC Merced professor has contributed to a Surgeon General's report.
The report concludes that even though tobacco companies are restricted from advertising to children, tobacco-marketing activities continue to influence youth to start smoking and continue smoking. The report considers a wide range of information, ranging from the epidemiology of adolescent tobacco use to economics to internal tobacco company documents describing the importance of new smokers.
"We tend to think that just because Joe Camel and the Marlboro Man are gone, youth are protected from tobacco marketing and advertising — this is not the case," Song said. "There is strong evidence demonstrating that youth are still influenced by tobacco ads and marketing campaigns, even if they are not obviously directed towards them. These marketing efforts are very effective in getting young people to feel positively towards cigarettes and cigarette brands and start smoking."
Cigarette companies need to recruit to new smokers, and their advertising campaigns appeal to the aspirations of adolescents, the report concludes, adding that children appear to be more responsive to advertising than adults.
Tobacco companies market cigarettes to young adult trendsetters, the report also observes. A 2010 study found that R.J. Reynolds developed its marketing campaigns to better suit the lifestyle, image identity and attitudes of hip trendsetters and that Camel's brand identity shifted to more closely convey the hipster persona. 
"Young people want to be popular, to be seen as an individual by their friends, and to resemble those they most admire," report concludes. "Cigarette advertising purposefully exploits these adolescent desires, using imagery to create the impression of popularity, individuality and kinship."
The report also highlights the fact that smoking in the movies acts through similar psychological channels to cause youth to start smoking.
The Surgeon General serves as the country's doctor by providing the United States with the best scientific information available on how to improve their health and reduce the risk of illness and injury.