April 16, 2014 -

8:00pm

to

10:00pm
Valley Fever Seminar Series presents:
Herbert W. Boro, M.D., F.A.C.P.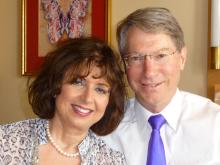 "Valley Fever Basics Plus 2014 Update from the Cocci Study Group Meeting"
Dr. Boro will provide a clinician's overview of Coccidioidomycosis (San Joaquin Valley Fever).  Information presented will include History, Endemic Area, Life Cycle, Pathogenesis, Patterns of Disease, Diagnostic Testing and Treatment Planning. He will also provide a summary of the most significant abstracts presented at the Cocci Stud Group meeting to be held April 5, 2014.
Dr. Boro was raised in Fresno and educated at UC Davis and Memorial U. of Newfoundland.  He received his medical training at the Kern Medical Center in Bakersfield, CA and UC Irvine. He retired in 2011 from Infectuous Disease practice in Fresno after 33 years.  Dr. Boro now works as a medical consultant with the Medical Board in Fresno. 
Email-friendly flier (247.08 KB)
Print-friendly flier (29.58 MB)
Location
COB 322 (Willow Conference Room)