Working with HSRI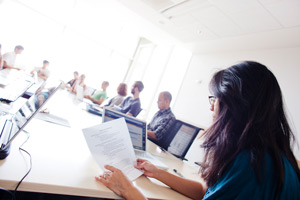 HSRI welcomes participation from the wider community, including community members and organizations, healthcare providers, foundations and trusts. HSRI also has opportunities for students, researchers and visiting scholars interested in being affiliated with UC Merced.
HSRI can help you benefit from the rich resources at UC Merced by providing an introduction to:
Members of the faculty for research projects;
Undergraduate and graduate students for projects;                               
Staff who coordinate internships, volunteering and service learning;
Grant makers, philanthropic organizations and foundations to fund your research;
Training in health sciences, research and evaluation; and
Knowledgeable faculty and staff for grant development;
HSRI is committed to Community Engaged Scholarship: working with community organizations and individuals to find solutions that are mutually beneficial.
The first step in this process is making the initial contact.
To get started, or for more information, contact Executive Director Trevor Hirst at thirst@ucmerced.edu