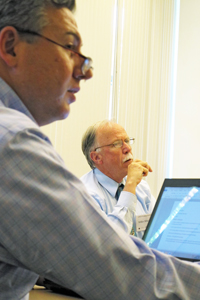 Valley Fever (VF) is caused by coccidioides immitis, a terricolous (soil-dwelling) fungus found in the Western hemisphere in arid and semi-arid areas (Pappagianis, 1993). The illness is contracted by the inhalation of arthroconidia (fungal spores). Though many cases of fungal infection resolve without symptoms, the disease can disseminate to the skin, bones and/or central nervous system, often alongside pneumonia (Crum, Lederman, Stafford, Parrish, & Wallace, 2004; McCarty et al., 2013).
Though occupational hazards (such as dry, dusty workplaces) may contribute to an increased risk of inhaling the fungal spores (Johnson, 1981), the causes behind its dissemination in some individuals (and not others) have been less explored. Hospitalizations due to coccidioidomycosis are more common in blacks and Filipinos (Hector et al., 2011). The rise in incidence of documented cases in California and Arizona in recent years may be due to climate change or changes in the demographics of the population. There has been an increase in the number of new immigrants into c. immitus-endemic areas of California (California state & county Quickfacts, 2013).
Valley Fever Day
Valley Fever Research Day, a collaborative day organized by UC Merced and UCSF, took place on June 29, 2013. Over 30 researchers, clinicians and public health officials joined together to discuss the Valley Fever epidemic. The concerned individuals came from the Health Sciences Research Institute (UC Merced), Community Medical Center (UCSF Fresno), California State Fresno, and several public health departments and institutions. Participants dicussed emerging themes and directions for future Valley Fever research.