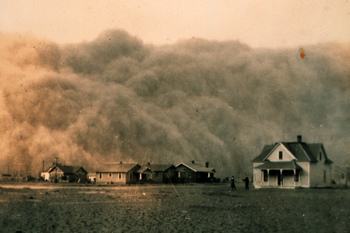 The 1930's provides an historic example of the link between the health of humans and the surrounding environment: the Dust Bowl. This event additionally demonstrates the coupling of roles for economics, humans, nature, and technology in this catastrophe's generation and solution, including the fundamental role of research in establishing cause and effect in both decline and recovery.
This was an extreme situation, but one which provides many lessons for today. Thus, an organizing principle in Environmental Health is to understand the origins/causes of and find solutions to prevent illness, leading to overall improvement of quality of life. Nonetheless, even though illness may be greatly reduced, inevitably some people cannot avoid becoming sick, and for this smaller portion of the population we also are invested in understanding conditions that exacerbate and progress illness and are committed to finding solutions to alleviate illness. 
The health of humans and environments are intertwined, and our research aims to understand how as the basis of solutions.
Air Quality
Cities in California's Central Valley rank among the most air-polluted in the United States. Key problems include particulates from agriculture and vehicular traffic, and ground level ozone. The sources change by seasons, tied to cycles of human activity in the valley, with obvious effects such as accentuating breathing difficulties, and more insidious illness such as valley fever, developmental problems and elevated rates of cancer.
Our studies are based in the Central Valley and worldwide. One example, considers the health economics of alternative modes of transport. The transportation sector is a major source of air pollution worldwide, yet little is known about the effects of transportation infrastructure on air quality.
UC Merced faculty researchers Yihsu Chen and Alexander Whalley have quantified the effects of one major type of transportation infrastructure — urban rail transit — on air quality using the sharp discontinuity in ridership on opening day of a new rail transit system in Taipei. They found that the opening of the Taipei Metro reduced air pollution from one key tailpipe pollutant, carbon monoxide, by 5 to 15 percent. Little evidence that the opening of the Metro affected ground level ozone pollution was found however.
Related content elsewhere on the web:
Valley Fever Risk in the San Joaquin Valley
The incidence of valley fever (VF; Coccidioidomycosis) — a potentially fatal disease resulting from inhalation of soil-dwelling fungi coccidioides immitis and coccidioides posadasii — is increasing in the southwestern United States, including the San Joaquin Valley (SJV).
Hotspots of infection suggest geographically variable risk, but the occurrence of Coccidioides spp. in soils and on soil particles in air is poorly known. Researchers aim to develop capacity to map risk factors linking environmental health with the incidence of this infectious disease using Unmanned Aerial Vehicles (UAVs).
Small UAVs (≤25 kg take-off weight) can carry equipment designed to sample air, water and soil, and capture remarkably high resolution thermal, infrared, and visible imagery and video; these data can be used to map land use, vegetation, construction, water, and are especially useful for precision mapping of human-environment interactions in the SJV.
Professors Michael Beman, YangQuan Chen and Michael Dawson are exploring development of UAVs for acquiring large numbers of soil and air samples at high spatial and temporal resolution over large and/or inaccessible areas to couple with high-throughput 'next generation' identification of coccidioides population genetic variation.
Although conceptualized especially for the detection of airborne infectious organisms and specifically coccidioides spp., an example key health issue in the SJV, autonomous and cost-efficient sampling ability will be broadly applicable to a range of air quality issues.
Related content elsewhere on the web: