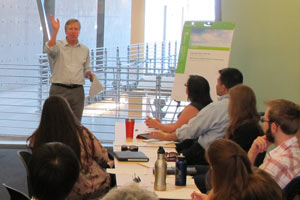 HSRI's Community Research Unit understands that organizations and individuals in the community have valuable insights and programs.  They, too, can be equal partners in the research endeavor. Too often, these community leaders lack the funding, staff, capacity, and resources to develop and apply their ideas to benefit their constituencies.
UC Merced, as part of the UC Tier 1 research system, can help community programs and innovators to fully develop and apply their ideas through research.  This community research would lead to more effective programs and more widely disseminate ideas and findings to improve communities.
The Community Research Unit collaborates with community organizations, innovators and researchers to:
Develop current ideas and programs through research and evaluation;
Disseminate existing programs and innovations;
Train and develop academic and community members in community research methods; and
Nurture academic and community infrastructure for community research.
Through HSRI's Community Research Unit, community organizations and innovators will always have a resource to help them achieve to their fullest potential through research.
HSRI highly promotes and supports community based research between the university and community partners and strives to:
Establish good relationships with the community and community members;
Conduct research in a manner that is appropriate to the community partners; and
Deal with any conflicts that arise in a professional and respectful manner
HSRI actively supports researchers conducting community based work by providing:
Guidance to ensure research is consistent with best practice for health disparities research
Methodological advice for conducting community based research
Support when issues or conflicts arise with participants or community organizations
Assistance for ensuring that results of the research are translated to the communities impacted by the results