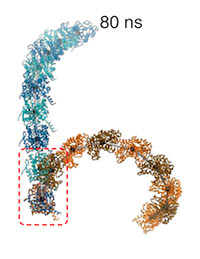 The Biosimulations and Modeling HSRI research cluster aims to accurately simulate dynamic biological processes and physiological behaviors. This requires careful choice of physical and mathematical models.
Often significant computing power is required to capture such a complex environment.
These processes can be modeled at the level of atomic and molecular interactions with quantum mechanical methods (electronic excitation, bond-breaking, adsorption), at the level of atomistic simulations and macromolecular interactions (protein and RNA folding, DNA-binding, protein-RNA interactions, and enzymatic catalysis), at the level of cellular and macroscopic processes (bulk protein distributions in cells, macromolecular synthesis, transport and decay, blood clotting, fluid flow), at level of evolutionary dynamics of macromolecular networks, and at the level of cell, soft tissues, vessels and organ biomechanics.
Fund our more about individual researchers on our HSRI Members page
Some areas of interest include:
Capturing protein energetics, dynamics, and interactions at the atomistic level -

Colvin
Filipp
Gopinathan
Isborn
Modeling in vivo dynamics of protein and RNA synthesis, folding/misfolding, transport, repair and decay in biological systems -

Ardell
Gopinathan
Hirst
Sindi
Evolutionary dynamics of macromolecular complexes and networks in the domains of metabolism, expression, and regulation -