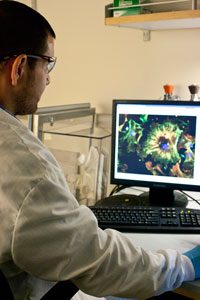 The Biomolecular Cluster of the Health Sciences Research Institute brings together research programs that tackle health-related problems at the molecular level.
Since the mechanisms of disease originate from molecular interactions, members of the Biomolecular Cluster utilize a wide array of sophisticated techniques to elucidate the structures, dynamics, and interactions of biological molecules.
This cluster facilitates the research programs of its members by:
Fostering interdisciplinary partnerships to increase extramural (grant) funding for research and training
Housing shared instrumentation
Subsidizing costs for maintaining the instrumentation
Hosting journal clubs, retreats, and training workshops for complex instrumentation.
This research cluster is comprised of faculty members from the School of Natural Sciences and the School of Engineering.