Deb Wiebe - Director
School of Social Sciences, Humanities & Arts
Email: dwiebe@ucmerced.edu
Phone: 209-228-4614
Location: Social Sciences & Management Building
Deborah (Deb) Wiebe joined UC Merced as professor of psychological sciences in 2013, and became the director of HSRI in January 2019. Previously, she served as director of research and professor of psychology at University of Texas Southwestern Medical Center.
Wiebe's research focuses on the roles of self-regulation and social relationships (e.g., family, peers, health care providers) in preventing and managing chronic diseases, and how these processes change across developmental transitions and sociocultural contexts. Her current work examines families managing type 1 diabetes during adolescence, but the concepts are general and she has studied other health and developmental contexts (e.g., older couples coping with prostate cancer; parental decisions regarding HPV vaccine in a safety-net health care setting).
Wiebe received a bachelor's degree in psychology from Bethel College, an MPH in epidemiology from University of Alabama at Birmingham, and a PhD in medical psychology from University of Alabama at Birmingham.
---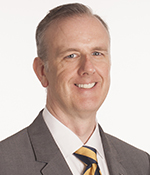 Trevor Hirst - Executive Director
Email: thirst@ucmerced.edu
Phone: (209) 756-6417
Location: Biomedical Sciences & Physics Building, Room 223
Trevor Hirst read law at the Victoria University of Manchester, went on to train as a solicitor (attorney), and was admitted to the Roll of Solicitors in 1999, practicing civil litigation in Altrincham, Cheshire in the United Kingdom.
He changed his focus from litigation to education upon moving to California in 2002, working at the University of California in Santa Barbara as a program manager at the university's California NanoSystems Institute. Trevor joined the staff at UC Merced in November 2009 as Program Manager for the Center of Excellence on Health Disparities before joining HSRI as its founding Executive Director in July 2012.
As HSRI's founding Executive Director, Trevor is responsible for the operations of the institute, including staffing, strategic planning, budget, communications and development, memberships, internal seed grants, and is the initial point of contact for researchers as they seek out funding opportunities, draft and submit proposals to federal and other research funding agencies.
---
Leann Nascimento - Business Officer and Grants Manager
Email: lnascimento@ucmerced.edu
Phone: (209)-285-9249
Location: Biomedical Sciences & Physics Building, Room 215A
Leann joined UC Merced in January 2012 in the Office of Admissions. She then joined HSRI in September 2014 in a duo role as the Management Services Officer (MSO) and Grants Post-Award Manager. As department MSO, Leann oversees and approves all transactions and manages the operational budgets, as well as supervises the academic and Human Resource personnel hirings. Prior to coming to UC Merced, Leann worked for a non-profit agency as an Accountant II managing grants that support vocational programs, as well as assisting with internal audits.
Leann has lead the Post-Award team in HSRI starting with 15 awards to now managing over 60 awards from funders including the National Institutes of Health, National Science Foundation, Public Health, Cancer Research Coordinating Committee, Department of Army Research, Air Force Office of Scientific Research, as well as the Medical Education Program. Leann and her post-award team has established an excellent working relationship with faculty in providing them with the customer service and administrative support to alleviate as much of the administration burden so that the Principal Investigators can strictly focus on their research.
She has received certificates of completion in Financial Management through the Society of Research Administrators International, Supervisory Certificate Program at UC Merced, Risk Management, and received the Staff Award of Excellence in Customer Service and Job Performance in 2018. Leann holds a degree in Accounting and Business Management which lead her to a career in the Governmental Accounting field, and now Research Administration.
---
Arturo Durazo - Project Scientist
Email: adurazo2@ucmerced.edu
Phone: (209) 506-4901
Location: Biomedical Sciences & Physics Building, Room 219A
Arturo Durazo is a community psychologist and health scientist. His research program advances health equity by engaging community partners in the creation of scientific evidence aimed at decreasing incidence and mortality of preventable cancers. His work focuses on individual and structural factors that promote well-being in low-income, racial/ethnic, and/or sexual/gender minority communities, who disproportionately bear the brunt of illness. Dr. Durazo joins UC Merced following his Tobacco-Related Disease Research Program Fellowship at UC San Francisco.
Dr. Durazo has over 20 years of experience implementing community-based research and developing evidence-based interventions to promote health equity. His leadership history includes service to the BIPOC, Latinx, and LGBTQ+ communities. Currently, his activities are focused on: 1) leading research involving underserved populations, particularly tobacco users experiencing homelessness and/or identifying as LGBTQ+, and 2) chairing a newly formed community coalition to address tobacco industry-related harm in the San Joaquin Valley. Dr. Durazo believes that we can accelerate health equity by implementing solutions that are co-created within partnerships between citizens, community leaders, policy makers, and researchers.
---
Rosa Manzo - Project Scientist
Email: rmanzo3@ucmerced.edu
Phone: (209) 500-9969
Location: Biomedical Sciences & Physics Building, Room 217A
Dr. Rosa D. Manzo is an interdisciplinary community-engaged researcher. Her research background spans both qualitative and quantitative approaches and includes extensive experience in community-engaged research methodologies, contributing to program development and implementation in both the education and health fields. In addition to informing program development, her research has resulted in a robust record of publications and international presentations.
As an interdisciplinary scholar, she has experience in educational and community-based programs and grants. For example, she has developed partnerships with Promotora groups in the San Joaquin Valley region and has successfully trained them as data collectors. She has been critical in the development of medical education programs that incorporates a community-engaged approach to addressing health disparities in the San Joaquin Valley. She draws from evidence-based practices and her lived-experience as a first-generation student from the San Joaquin Valley to engage educational leaders, community stakeholders, professionals, and policy makers in the development of effective programs that address the health and education needs of underserved communities.
---
Yueqi Yan - Project Scientist, Senior Biostatistician
Email: yyan105@ucmerced.edu
Phone:
Location: Biomedical Sciences & Physics Building, Room 217A
Yueqi joined the HSRI Biostatistics & Data Support Core in July 2019 and serves as the unit's senior biostatistician. He has over 12 years of experience with federally funded research projects in the areas of children's mental health, suicidal behavior, substance use, and family recovery services.
Yueqi received his Ph.D. in social welfare from University of Kansas, where he received extensive quantitative and qualitative methodological training. His expertise includes experimental and quasi-experimental design, longitudinal design, and advanced statistical methods.
---
Monica Alvarado - Administrative Specialist
Email: malvarado37@ucmerced.edu
Phone: (209)-228-2491
Location: Biomedical Sciences & Physics Building, Room 213A
Background and Bio: Before joining HSRI, Monica provided administrative and accounting services to the Central Valley Regional Opportunity Center (CVOC), which provides vocational training and other supportive programs to low-income and farmworker families. After 14 years at CVOC, Monica now works closely with the department MSO to manage HSRI's academic personnel, postdoctoral scholars, undergraduate and graduate students.
---

Alexander Mellor - Projects Manager
Email: amellor@ucmerced.edu
Phone: (209) 355-9280
Location: Biomedical Sciences & Physics Building, Room 211A
Background and Bio: Alex joined UC Merced in 2017 as an HSRI project manager helping manage and coordinate large grant submissions. In 2018, following a $3.8 million award from the Tobacco Related Disease Research Program of UCOP, he became the Head of Operations for the new HSRI/UC Merced Nicotine and Cannabis Policy Center (NCPC), which has offices both on campus and in downtown Merced. 
Originally a native of the United Kingdom, prior to joining UC Merced, Alex spent over 20 years working within large pharmaceutical advertising agencies and marketing departments of companies both in the U.S. and Europe. Alex is tasked with efficiently running all aspects of the NCPC, and utilizes his extensive experience of project managing the daily activities of complex programs, while overseeing multi-million-dollar budgets; planning and driving development of digital and print research materials, while also drafting and implementing effective communication & dissemination plans.
---
Carmen Middleton - Departmental Research Administrator
Phone: 209 504-9874
Email address: cmiddleton@ucmerced.edu
Location: Biomedical Sciences & Physics Building, Room 213B
Carmen's journey at UCM began in 2005 when she joined Dining Services as a Baker. From 2009-2011 while in Dining, Carmen managed the Lantern Café located inside the Library building. After leaving Dining Services in 2011, Carmen joined the Office of International Affairs as the Center Manager and later became a Study Abroad Advisor. In 2014 Carmen accepted a position with the Provost and Executive Vice Chancellor Office as a Financial Analyst where she also provided assistance to all direct Provost departments (Academic Personnel, International Affairs, Academic Senate, Institutional Assessment, Vice Provost for the Faculty, Fresno Center, Provost and Executive Vice chancellor).
In December 2018, Carmen was one of many admin personnel on campus who were reassigned to ACT (currently known as CBS2). While working in ACT as a Liaison, Carmen supported 28 campus departments with their budget and financial needs as well as HR and payroll requests. On February 2020 Carmen accepted a position with the Library as the Administrative Officer where she oversaw the student and staff payroll and HR inquiries and supported CAO with financial and administrative matters for the department.
Carmen joined HSRI in October 2020 and has been assisting many UCM faculty with Post-Award matters such as:Manages and prepares budget summaries and projections; Liaison for faculty on post award administration; Approve post award grant requests; Handle rebudgets /no-cost extensions/close outs.
Carmen came to the United States at age 20 and grew up in a very small town in Jalisco, Mexico. Carmen loves going to Mexico to visit family and friends and to enjoy everything that Mexico has to offer.
---
Martin Reyes - Departmental Research Administrator
Email address: mreyes54@ucmerced.edu
Phone: 209-819-6143
Location: Biomedical Sciences & Physics Building, Room 211B
Martin's faculty support journey at UC Merced began in 2015 when he joined the Business & Financial Services office in the School of Natural Sciences where he assisted faculty in the procurement of goods and services for their research efforts for about four and a half years. Martin then took a role in the Sponsored Projects Office before recently joining HSRI to pursue a greater role in research administration.
---