Graduate Member Advisory Board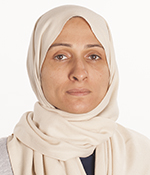 My long-term career goal is to become an independent researcher in the field of minority health emphasizing on migration health ( and refugees health). With the doctoral training and after that with planning to expand academic and research expertise through the postdoctoral studies, I expect to earn as much as possible knowledge, research potential, and academic abilities to enhance my engagement in research through this field. My focus is to investigate elements including cultural, societal, economic, and individual behavior, affecting short term and long term health outcomes of individuals who forced to immigrant and resettled into Central Valley California. With identifying the determinants of health, the next step would be to identify, design and to implement interventions engaging the community and improving the desired health outcomes. I also hope to an educated younger generation of the researcher in the Valley to work within their own immigrated community and enhance the education, health, and long-term life of their disadvantaged communities.
EDUCATION
University Of California Merced , Merced,CA Jan 2017- Present
Doctor of Philospphy student(Ph.D) , Department Of Public Health
University of San Francisco, San Francisco, CA Jan 2014 - Dec 2015
Master of Public Health (MPH)
Tehran University of Medical Science, Tehran, Iran Sept 1995 - June 2003
Professional Doctorate in Medicine (MD)
Award
BLUM Center Seed Grant June 2017
Publication and Presentation
APHA 17th Annual Meeting November 2017
• Oral Health: A Forgotten Milestone in Refugees' Health
Z.Goliaei, M. Gonzalez, D. Bhattacharya
• Oral Health Needs in Merced County, California: Latinos are at risk in rural California
M. Gonzalez, D.Tancredi, N. Burke, Z. Goliaei
11th Summer Institute on Migration and Global Health June2016
• Oral Healthcare access: An Unmet Need For Refugees
Medical Thesis
Mohyeddin Bonab. M, Alimoghaddam. K, Goliaei. Z, & Ghavamzadeh. A, Which Factor Can affect Cord Blood variables? Transfusion, 2004; 44(5):690-3.