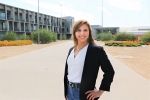 My dissertation analyzes the implications of California's Sustainable Groundwater Management
Act (SGMA) on irrigated agricultural land, and how anticipated land use changes could impact already socioeconomically vulnerable communities in the San Joaquin Valley. Health sciences plays an important role in my work because my work concerns more than 500 disadvantaged communities (legally
defined by the state based on being below a threshold of average U.S. median household income) that are predominately Hispanic/Latino. These communities do not have access to safe, clean drinking water, healthy affordable food, and are faced with poor air quality conditions. With the potential that SGMA
may take more than 10% of agricultural land out of production, leaving this land fallow could lead to socioeconomic and health impacts for these communities. I am developing a model that offers alternative land uses that minimizes these impacts on already vulnerable communities.
Anything Else:
Vicky Espinoza is a Ph.D. Candidate in the Environmental Systems Graduate
Group at the University of California, Merced, advised by Professor Joshua
Viers. She received her Master's degree in Environmental Engineering at the
University of Southern California in 2017 and her Bachelor of Science degree
in Geophysical Sciences from the University of Chicago. Her prior applied
research experiences at Argonne National Laboratory and NASA Jet Propulsion
Laboratory included research in energy-water systems, and climate change
impacts to hydrological systems. She has been actively involved in making
science and mathematics accessible to underrepresented, Spanish-speaking
communities throughout her educational career.
Vicky's research addresses sustainable water management for global food,
energy, and water security. Her doctoral dissertation analyzes how
California's Sustainable Groundwater Management Act will impact irrigated
lands in the San Joaquin Valley, and how anticipated land use changes will
affect already socioeconomically vulnerable communities within the region.
She hopes her research will translate into broad insights that can inform
water policy and adaptation strategies, and result in more equitable
solutions for underrepresented communities in California and beyond.
She has had opportunities to meet with policy stakeholders and share her
research in Sacramento and DC. She has been selected to be a panelist at the
2019 Congressional Hispanic Caucus Institute, a 2019 Next Generation Delegate
with the Chicago Council on Global Affairs, and a graduate student advocate
on Grad Research Advocacy day with Dean Marjorie Zatz. She is a 2018-2020
USDA- CAMINOS Graduate Fellow and 2018 Imagine H2O Water Innovation Policy
Program Fellow.