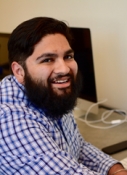 Education:
BS Biological Sciences (Molecular/Cell Biology)- UC Merced 2015
MS Public Health - UC Merced 2019
PhD Student Public Health - UC Merced  2016-Present
Fellowship/Internship:
UC Merced/Department of Energy Joint Genome Institute Distinguished Graduate Summer Fellowship June 2018-August 2018
Anything Else:
My research interests are at the intersection of genetics and health science. My current research is focused on exploring the genetics of chemosensation, such as taste and smell. I am particularly interested in exploring genetic variability within and between populations, and the effects that genetic variations have in shaping human chemosensory traits. Lastly, I am interested in how these traits may influence health, such as shaping dietary behaviors. 
Advisor:
Professor Stephen Wooding