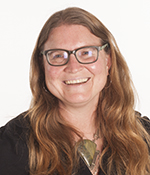 Research Interests:
Immigration policy
Deportations
Racial identity 
Human rights
U.S. Latinos/as
Latin America
Research Summary:
Tanya Golash-Boza is a Professor of Sociology at the University of California, Merced. Prior to arriving at UC Merced, she was an Assistant Professor of Sociology and American Studies at the University of Kansas.
Tanya Golash-Boza is a prolific author. She has published five sole-authored books and 35 articles and book chapters. In addition, she has published dozens of OpEds and essays in popular venues.
Many of her publications have received awards, including her latest book Deported: Immigrant Policing, Disposable Labor and Global Capitalism, which was awarded the Distinguished Contribution to Research Book Award from the Latino/a Studies Section of the American Sociological Association. She also won an article award from that same section for "Dropping the Hyphen: Becoming Latino(a)-American through Racialized Assimilation." Additionally, she won the Distinguished Early Career Award from the Racial and Ethnic Minorities Studies Section of the American Sociological Association in 2010.
Tanya Golash-Boza's scholarship ranges from issues of race and identity in Peru to human rights to immigration policy and deportation. Her latest book Deported (New York University Press 2015) explains mass deportation in the context of the global economic crisis. Due Process Denied (Routledge 2012), describes how and why non-citizens in the United States have been detained and deported for minor crimes, without regard for constitutional limits on disproportionate punishment. Immigration Nation (Paradigm 2012), provides a critical analysis of the impact that U.S. immigration policy has on human rights. Yo Soy Negro: Blackness in Peru (University Press of Florida 2011) explores discourses of blackness and racial identity in Peru. Her textbook, Race and Racisms: A Critical Approach (Oxford University Press 2015) provides a critical overview of contemporary race scholarship.