Graduate Member Advisory Board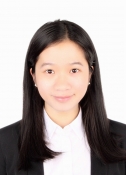 Qingqing obtained her B.A. and M.A. in Management at China University of Geosciences Beijing. She also received her M.B.A. in International Business at Technische Universität Bergakademie Freiberg in Germany in 2016.
She is currently working with Dr.LeRoy Westerling as a graduate student in Environmental Systems at University of California Merced. Qingqing's current research interests is how drought and climate change affect public health via wildfires.