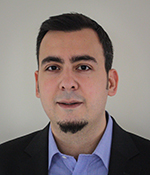 Research Interests:
Nanomechanics
Nanotribology
Scanning Probe Microscopy
Surface Science
Primary Research Interest:
Research Summary:
Dr. Mehmet Z. Baykara obtained his B.S. degree in Mechanical Engineering from Boğaziçi University in Istanbul, Turkey in 2006, and his Ph.D. degree from the Department of Mechanical Engineering & Materials Science at Yale University in 2012. Between 2012 and 2017, Dr. Baykara worked as an Assistant Professor at Bilkent University, where he was the leader of the SPM Research Group and conducted research funded by the European Commission.
After a 3-month stay at Harvard University as Visiting Scholar, Dr. Baykara has started at University of California, Merced as an Assistant Professor of Mechanical Engineering in January 2018.
Dr. Baykara has authored publications in journals such as Nature Communications, Nature Nanotechnology and Advanced Materials, and has delivered numerous invited presentations at research institutes and universities around the world. He is the recipient of multiple academic awards, including those from MRS and AVS.