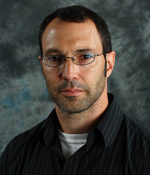 Research Interests:
Professor Meyer's research is directed toward developing techniques to aid in drug discovery. Students in his lab have the opportunity to become proficient in:
Organic synthesis
Protein expression and purification
Modern NMR techniques
Computational chemistry
Drugs are often small molecules that inhibit enzymes or receptors in the body. The inhibitors that are important for use as therapeutic agents are usually molecules that preferentially compete for the binding site(s) on an enzyme or receptor.
Currently, Professor Meyer is working on developing a technique that quantitatively probes the binding interactions of lipoxygenases with their natural substrates along the reaction pathway from reactants to products. Human lipoxygenases are important because they have been implicated in asthma, heart disease, various cancers, and a host of other diseases. Developing techniques to measure how strongly these enzymes interact with their substrates along the reaction pathway may lead to information that is crucial to designing drugs to treat these diseases — specifically those that utilize many of the structural features of the natural substrate. This is important because it could allow for the efficient design of therapeutic lead structures that would not be as likely to produce unforeseen side effects. A development of this nature could significantly reduce the costs associated with drug development in the pharmaceutical industry.
Primary Research Interest: