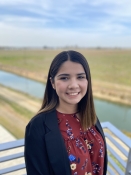 University of California, Merced
B.A. in Public Health
Minor in Psychology
Anything Else:
My research interests include environmental health, air quality and the effect air quality has on respiratory health such as asthma. I believe this research is important for the San Joaquin Valley (SVJ) because the SJV suffers from poor air quality and the extent to which individual's respiratory health is being compromised is a question that is still left unanswered.