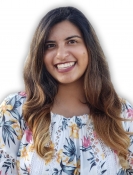 B.A. Public Health, B.A. Spanish, B.A. Psychology from UC Merced, 2017
Masters in Public Health (MPH) from CSU Long Beach, 2019
Anything Else:
My research interests include immigrant health, specifically how policies affect the health of undocumented Latinos as well as research on obesity prevention. In the future, I hope to continue conducting research to improve access to resources and health among minority populations.