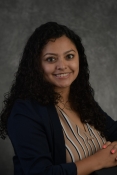 Currently, I am working with Dr. Payán and undergraduate research assistants in creating an
obesity prevention policy database. We will be examining policies to understand why certain prevention policies are passed versus others and the effects of these policies. I am interested in examining if policies address health disparities in our underserved communities and if so how they address the issues. Being able to identify which policies have been effective in addressing obesity prevention in our underserved communities will assist in developing future policy.
Anything Else:
Kesia Karina Garibay is a doctoral student at the University of California, Merced in the Public Health program with a focus on Health Policy. Her research interest includes the impact of health policy on underserved communities and the way these policies address health disparities. She is currently creating a database with her advisor Dr. Denise Payán and a research team on obesity prevention policies. She holds a B.A. in Public Health from the University of California, Merced.