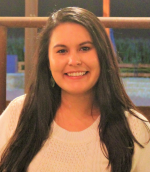 My research focus is on women's health and promoting health equity within vulnerable populations. I primarily conduct qualitative research, using interview and focus group transcripts. I believe working directly with underserved communities and gaining insight through narratives can make health research processes more patient-centered. My overall goal is to become an independent Public Health researcher with expertise in women's health, specifically addressing health disparities. Ultimately, I want to translate this training into a faculty position at a research university or work for a state level public health department. To achieve this goal, I need to gain first-hand qualitative research experience and refine my skills in this area.
Background
I received my Bachelor of Arts in both Chemistry and Public Health from Knox College in Galesburg, IL in June 2016. My Public Health experience was unique in that I was able to self-design my major by incorporating coursework in Sociology, Anthropology, Psychology, Economics, and Biology, and received guidance from my academic advisor, Anthropologist Dr. William Hope. For my senior year capstone, I conducted an independent research project on the college's on-campus health center. I conducted semi-structured interviews with students, faculty, and healthcare personnel about their perceptions around health and care.
During my time at UC Merced's Public Health Program, I have been involved in several projects under Dr. Nancy Burke. One study focuses on a family-based, Tobacco Cessation intervention for Vietnamese men. My Second-Year paper, which will serve as my Master's Thesis, involves medically underserved women and their experiences with the mammogram process and receiving abnormal results. Lastly, another study I am involved with focuses on the experiences and challenges of Family Caregivers of older adults with Alzheimer's, dementia, or other disabilities. Each have taught me unique qualitative research skills, and I have had to use different methods through conducting interviews, analyzing secondary data, and ultimately preparing manuscripts based on each study's findings.
Additionally, my colleagues and I were awarded the UC Tobacco Free Fellowship on E-Cigarette use among college-aged students. We will be surveying, conducting focus group interviews, and facilitating a wellness event for the community.