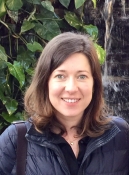 UCLA - B.S. Microbiology and Molecular Genetics
UC Davis - Secondary Science Teaching Credential
California State University Monterey Bay - Masters of Science in Instructional Technology
Anything Else:
My research focuses  on drinking water contaminated with 1,2,3-trichloropropane, a suspected human carcinogen. I am interested in mediating the health impacts of drinking contaminated water especially in disadvantaged communities by researching treatment methods.