B.A.: Bethel College, Newton, KS
MPH: University of Alabama
PhD: University of Alabama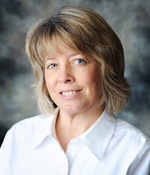 Research Interests:
My research interests fall within the domains of health and pediatric psychology.  Broadly speaking, I am interested in understanding how people cope adaptively with acute and chronic health threats.  My research draws on Leventhal's self regulatory framework, which posits that health threats activate a common-sense understanding of health problems, which then guides ongoing efforts to manage the threat.  Within this framework, health threats are activated at both an abstract rational level (e.g., I have high cholesterol which may increase my risk of heart disease) and a concrete emotional level (e.g., feeling fear and distress upon remembering my father's heart attack).  A general goal of my research is to understand not only how people cope to manage the health threat per se (e.g., change diet and exercise habits to lower cholesterol), but also how negative emotions are generated by health threats, how emotions influence health threat representations and coping behaviors, and how emotions are regulated to promote illness management and well-being.
Primary Research Interest:
School:
School of Social Sciences, Humanities & Arts
Recent Success:
Scholarly lead on a special issue of the American Psychologist to inform a wide audience (patients, providers, researchers, clinicians) about the central role of psychology in diabetes.
Community Affiliations:
UCM Alliance for Child & Family Health and Development
Member of HSRI Executive Committee
Graduate Courses:
Relationships and Health; Teaching Practicum
Undergraduate Courses:
Health Psychology; Clinical Psychology
Graduate Student Research:
Socioeconomic and ethnic disparities in pediatric disease management
Resilience, stress, and health
Social support and diabetes management
Current Graduate Students:
Past Research Topics:
Family interventions to promote HPV vaccine uptake in pediatric care
Stress, coping and health
Couples coping with prostate cancer
Area Of Expertise:
Clinical Psychology
Pediatric Psychology
Health Psychology
Adolescent Health
Emerging Adulthood
Field of Study:
Health Psychology; Pediatric Psychology
Current Funding Needs:
Funding to support research staff to facilitate participant recruitment and data collection in health clinics and hospital settings
Current Research Focus:
Health and illness occur in the context of daily family life; by understanding these processes, we have the potential to promote better health, better illness management, and better family relationships.
Parent-child relationships and diabetes management
Ethnic disparities in diabetes management
Managing diabetes during adolescence
Executive functions and illness management; Depression and diabetes.