B.A.: Bethel College, Newton, KS
MPH: University of Alabama
PhD: University of Alabama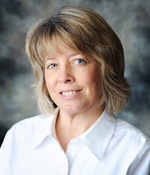 Research Interests:
I have over 30 years of research experience examining social and developmental factors in the prevention and management of chronic illness, including how sociocultural contexts (race, ethnicity, SES, culture and neighborhood factors) shape health disparities across development. Much of my work has focused on family relationships and adolescent diabetes management, where lower SES and racial/ethnic minority youth often have poorer glycemic control and self-management behaviors. My team has demonstrated that lower SES can undermine social relationships that are needed to support diabetes management, that the role of parental involvement in diabetes management differs in Latinos where family roles are central cultural features, and that both race/ethnicity and neighborhood context shape how families manage diabetes across adolescence in complex ways. While much of my work has focused on adolescent diabetes management, the concepts are broadly applicable to a range of social, developmental, and health disparity contexts that I have also examined (e.g., interpersonal processes in cancer decision-making in a safety net hospital; family decisions for adolescent HPV vaccines in low literacy populations).
School:
School of Social Sciences, Humanities & Arts
Recent Success:
Scholarly lead on a special issue of the American Psychologist to inform a wide audience (patients, providers, researchers, clinicians) about the central role of psychology in diabetes.
Community Affiliations:
UCM Alliance for Child & Family Health and Development
Member of HSRI Executive Committee
Graduate Courses:
Relationships and Health; Teaching Practicum
Undergraduate Courses:
Health Psychology; Clinical Psychology
Graduate Student Research:
Socioeconomic and ethnic disparities in pediatric disease management
Resilience, stress, and health
Social support and diabetes management
Current Graduate Students:
Past Research Topics:
Family interventions to promote HPV vaccine uptake in pediatric care
Stress, coping and health
Couples coping with prostate cancer
Area Of Expertise:
Clinical Psychology
Pediatric Psychology
Health Psychology
Adolescent Health
Emerging Adulthood
Field of Study:
Health Psychology; Pediatric Psychology
Current Funding Needs:
Funding to support research staff to facilitate participant recruitment and data collection in health clinics and hospital settings
Current Research Focus:
Health and illness occur in the context of daily family life; by understanding these processes, we have the potential to promote better health, better illness management, and better family relationships.
Parent-child relationships and diabetes management
Ethnic disparities in diabetes management
Managing diabetes during adolescence
Executive functions and illness management; Depression and diabetes.