Assistant Professor, School of Social Sciences, Humanities & Arts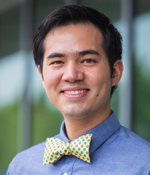 Current Research Focus:
Dr. Chan-Golston is a biostatistician whose research focuses on Bayesian spatial statistics and its applications to Public Health. Specifically, his methodological work examines the estimation of finite population quantities, accounting for both complex sampling designs and spatial associations. His applied interests include the food environment, adolescent health, mental health, wildfire prevention, disease detection, and zebra stripes. Raised in Clovis, he is dedicated to the improvement of health in the Central Valley.