B.A: Vanderbilt University
PhD: University of Chicago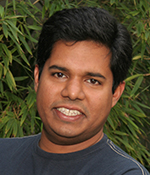 Research Interests:
Prof. Gopinathan's research interests include addressing problems in biophysics, soft condensed matter and the interface between the two fields. Use of theoretical and computational techniques from different areas in soft matter and statistical mechanics including polymer physics, elasticity and anomalous transport. Biological Transport. Drug design, colloidal dynamics, self-organization at surfaces, the geometry and dynamics of elastic sheets, transport in disordered systems and fluctuation induced forces. Soft Matter and Biomaterials and Biological Modeling and Simulation Cluster (BMSC).
School:
School of Natural Sciences
Recent Success:
Director, NSF-CREST Center for Cellular and Bimolecular Machines
James S. McDonnell Foundation. Grant awarded for research on complex systems that "breaks new ground or challenges common assumptions".
Community Affiliations:
Member of HSRI Executive Committee
Undergraduate Courses:
Biophysics, Physics for Biological Sciences
Graduate Student Research:
Cargo transport in complex intracellular environments
Foraging in networks and in groups
Disordered proteins transport
Current Graduate Students:
Past Research Topics:
Actin based Motility
Polymer transport
Elasticity of thin sheets
Colloidal dynamics
Area Of Expertise:
Intracellular Transport
Bacterial cell growth, division and shape maintenance
Protein Biopolymer Structure and Dynamics
Collective dynamics of flocks and swarms
Field of Study:
Theoretical and Computational Biological Physics
Current Funding Needs:
Graduate student funding for research: Collective motility in cellular clusters, flocks and swarms
Graduate student funding for research: Mechanisms of bacterial growth, division and shape
Current Research Focus:
Translating mathematical and computational understanding of biological systems to predict strategies for controlling or optimizing processes such as transport within cells, metastasizing tumors, division & growth in bacteria to aid development of therapeutic interventions.