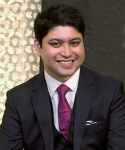 Research Interests:
Human-Computer Interaction (HCI)
Input and interaction techniques and technologies
Error behavior
Tangible User Interfaces (TUI)
Mobile interaction
Child-Computer Interaction (CCI)
Usable security
Scientific data visualization
Research Summary:
Dr. Arif is an Assistant Professor of Electrical Engineering and Computer Science at the University of California, Merced, where he leads the Human-Computer Interaction (HCI) Group.
As a researcher, his goal is to make computer technologies accessible to everyone by developing intuitive, effective, and enjoyable input and interaction techniques. Towards that, he studies existing techniques, identify issues with them, and then targets those issues from theoretical, behavioral, and practical standpoints. A major thread of his work focuses on smarter solutions for text entry, error correction, and editing on various devices. His other interests include mobile interaction, tangible user interfaces, child-computer interaction, usable security, and scientific data visualization.
Bylaw 55 Unit:
Computer Science and Engineering