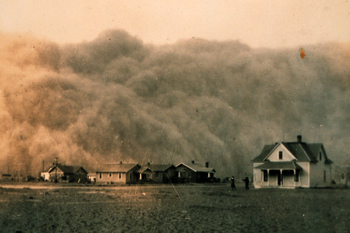 The 1930's provides an historic example of the link between the health of humans and the surrounding environment: the Dust Bowl. This event additionally demonstrates the coupling of roles for economics, humans, nature, and technology in this catastrophe's generation and solution, including the fundamental role of research in establishing cause and effect in both decline and recovery.
This was an extreme situation, but one which provides many lessons for today. Thus, an organizing principle in Environmental Health is to understand the origins/causes of and find solutions to prevent illness, leading to overall improvement of quality of life. Nonetheless, even though illness may be greatly reduced, inevitably some people cannot avoid becoming sick, and for this smaller portion of the population we also are invested in understanding conditions that exacerbate and progress illness and are committed to finding solutions to alleviate illness. 
The health of humans and environments are intertwined, and our research aims to understand how as the basis of solutions.